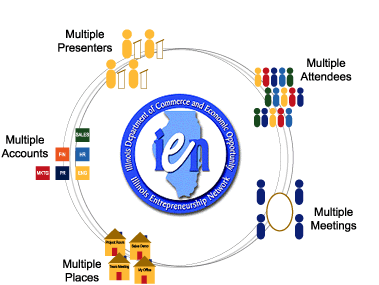 This collaboration portal provides remote users with voice over the Internet and text chat,
as well as Web page and Presentation sharing. The e-collaboration portal also allows
participants access to recordings of a session for follow-up later.
THE TECHNOLOGY FOR THIS PORTAL IS BASED ON A WINDOWS OPERATING SYSTEM
AND WORKS WITH A MICROSOFT INTERNET EXPLORER BROWSER. IT DOES NOT WORK
WITH APPLE, MACS, OR LINUX SYSTEMS AT THIS TIME!
FOLLOW THE STEPS BELOW TO ENTER THE WEBCAST.
For first time users of the portal, first download and install, ( RUN ), the software.
This software download is 3.5 megs. Click here to manually download or run the software.

Once you have installed the software you will see an orange box with "Click here to enter the room".

To access the webcast portal enter your name or your location in the space provided, no password is required.
produced by: Digital Workforce Education Society
An Illinois Entrepreneurship Network Affiliate